Using Dashboards
GetFeedback Analytics helps companies monitor and improve their customer relationships with real-time insights:
Build personalized reporting dashboards in minutes.
Monitor trends in survey responses over time and across multiple surveys.
Use powerful filters to understand your feedback—no spreadsheets required.
Below you'll find an introduction to analytics dashboards. We'll cover how to create them and how to use them to get the most out of your survey data.

Please note: GetFeedback dashboards are only available for Enterprise and GetFeedback for Salesforce customers. If you're on our Professional plan, you can always filter your summary report to get some of these capabilities.
Creating your Dashboard



To get started, log into your GetFeedback account and click Dashboards at the top of your screen.
Click New Dashboard on the left-hand side of your Dashboards home screen. (If you'd like to edit an existing dashboard instead, click on the drop-down menu and select that dashboard.)



Next, you'll be prompted to select a survey question for your first tile.
Adding and Editing Tiles

Tiles: A tile is a visual display of the results from a single survey question. Depending on the question type, you can select different formats for your tiles: numerical, trending graph, donut chart, comment stream, or NPS gauge.

A single dashboard can contain questions from multiple surveys, so as you add tiles, feel free to mix and match to get a comprehensive view of your key results. You can always edit or delete tiles after adding them.

Note: Ranking and form questions will not work in dashboards.

Multiple choice questions will default to the donut chart (see below) while numerical questions (like NPS or CSAT) can take a few different formats: trending graph, donut chart, numerical, or NPS gauge.


Once you've selected a survey question, choose a Design option on the right-hand side. You can switch back and forth between design options to see which one suits your needs.

Note: You cannot change the colors of tiles at this time, as they've been optimized for all devices and for colorblind users. If you'd like to create your own graphs and charts, the best option is to export your results and create your own visuals using Excel or another program.
To edit a tile, click on the tile to activate it and select the ellipsis icon
on the bottom left-hand side. Select Edit and use the right-hand menu to modify your tile.

To delete a tile, click the trashcan icon on the bottom left-hand side of the menu.

If you delete a tile, it will not delete your responses—it will simply remove the tile from your dashboard. There is no way to recover the tile once it's deleted.
Date Ranges
You can change the range of time dashboard tiles pull results from. These are the available options:
- The entire lifetime of your survey. This will show you all responses received over the total course of time your survey has been running.
- A specific time frame, such as last day, last 7 days, last 30 days, last 90 days, or last 365 days.
- A specific period, such as day, week, month, quarter, or year. We'll show you the current period of time that fits your criteria.
- A specific date range. This is the most flexible option. It lets you choose any date range that you'd like to examine throughout the life of your survey.
If you've selected a period of time (such as quarter or last 30 days), it's not possible to select a custom time frame. You'll want to instead use the date range option to choose the start and end date manually.
We'll automatically show you how well you did compared to the last period of time. You'll see this number appear in red or green on the right-hand side of your results (see image below).

Using Filters
Filters let you narrow down your response data by the criteria you select.

Let's say you sent your survey to 100 customers, asking them to rate your company on a scale of 0-10 using an NPS question. Before you sent off that survey, you also included a merge field to track customer region. When your customer clicked on your survey link, it populated their region along with their name, email, and NPS score.



You can pull that data into your dashboard by filtering the tile by region. The tile could display ratings from customers on the West Coast only, or wherever you choose.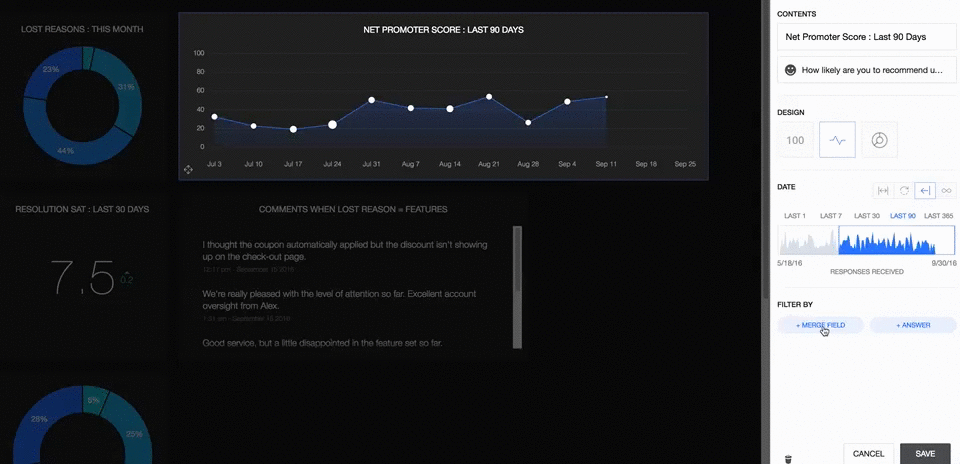 To remove a tile filter, simply edit the tile and click the X next to the filter you'd like to remove.

You can also filter tiles by answer. Let's say you also included a short answer question so respondents could elaborate on their NPS ratings. If you want to view ratings from respondents who used specific words in their comments (like "service" or "email"), you can use the answer filter.



Below is an example of a tile using an NPS question with an answer filter applied. This tile only shows ratings from people who mentioned "support" in the follow-up question. We can see that 31% of those respondents were promoters, while 8% were detractors.


You can also use this filter to create a quick comment stream tile. This lets you scan comments for specific keywords in short answer responses or multiple choice questions.

In the example below, we've created a filter to show comments about our "product."


Editing Your Dashboard
Once you've created a dashboard, you can always modify it.
To edit a dashboard use the drop-down menu on the left-hand side of your screen and select the dashboard. Use the cog icon on the top right-hand side of your screen to edit, delete, or share your dashboard team members.


Note: Sharing a dashboard will give your team member "view" rights, but they will not be able to edit the data.

If you'd like to adjust the layout of your tiles, you can use the crosshairs on the bottom left of each tile. Drag and drop the tile into any position in your dashboard.
Sharing a Dashboard Externally
You can share your dashboard with someone not on your team by clicking the arrow icon in the top right corner. Sharing your dashboard will give viewers "read only" rights, they will not be able to edit the dashboard.
Clicking the arrow will copy the link, allowing you to share the link with other by pasting it wherever you'd like.
Related Articles

The Basics of URLs and Merge Fields

Filtering Summary Reports

Conducting a Real-Time Audience Poll